Discover the Allure of Phuket: Your Ultimate Guide to Island Life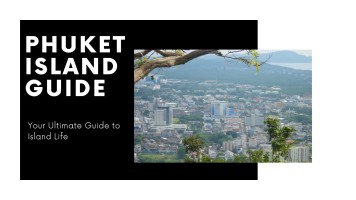 Category : Thailand Property News | Posted On 2023-08-30 00:00:00
Your Ultimate Guide to Island Life
Welcome to Phuket, the crown jewel of Thailand's islands. A mere hour's flight from bustling Bangkok, this enchanting paradise has transcended its origins to become a magnet for expatriates seeking a slice of heaven to call their own. Cradled by the Andaman Sea along Thailand's southwest coast, Phuket beckons with pristine beaches that are just the tip of the adventure iceberg. From golfing on world-class courses to plunging into the depths for exhilarating scuba diving, from horseback escapades to kayaking through nature's wonders – here, the possibilities are as boundless as the turquoise horizons.
But Phuket is more than just a vacation spot; it's a lifestyle. The island's web of infrastructure allows effortless exploration, often preferred by the savvy who opt to drive and experience every scenic twist and turn. A testament to its allure, Phuket is connected to the mainland by a bridge, opening gates to Phang Nga and Krabi. It's not just a destination; it's a launchpad to discover the tapestry of surrounding islands and attractions by sea.
As the geographical midpoint between China and Europe, Phuket's port once thrived as a vital trade route in the 1600s. Echoes of these global influences reverberate through the vibrant old town. Sino-Portuguese architecture, meticulously restored to its former grandeur, now shelters chic boutiques and delectable eateries. Strolling down these streets, you're immersed in living history, where cultures blend and tales unfold.
Step into Phuket's embrace, where the sun kisses your days and the rain dances in harmony. In the tropical embrace, sunshine graces most days, even in the gentle embrace of the rainy season. From September through October, sunbeams pierce through raindrops, creating a mesmerizing interplay of elements. Embrace the monsoon season from December to March, the island's zenith, when the rain lends a touch of mystique, and cool breezes bestow comfort.
Everyday life here is a symphony of comfort and convenience. Phuket combines the charm of island living with the amenities of a vibrant city. Cultural pursuits, professional opportunities, shopping extravaganzas, and an eclectic nightlife fuse seamlessly. The island's international flavor extends to education, with esteemed international schools catering to families. When beach frolics fade, adventure thrives in water parks, national reserves, and heartwarming animal sanctuaries.
Nestled amidst this paradise, your choices for abode mirror the island's diversity. From the vibrant shores of Patong to the tranquil retreats of Kamala, Kata, and Rawai, every locale holds its allure. Sandy beaches and a plethora of dining options accompany each destination, while entertainment options cater to every whim.
Amidst the lush hills, private villas command majestic sea vistas for those seeking secluded mountain sanctuaries. Across the spectrum, from luxury to cozy condominiums, residences dot the island, each reflecting its distinct character. Embrace the island's thriving tourism; renting out your property as a holiday haven allows you to savor both your investment and its breathtaking surroundings.
Phuket's accessibility transcends boundaries. Frequent flights bridge the gap between this paradise and global metropolises like Bangkok, while its international airport serves as a hub connecting you to destinations far and wide. From China to Australia, from Europe to the Middle East, Phuket's connectivity transforms it into a melting pot of cultures, a hub where the world's explorers unite.
So why choose Phuket? Allow us to count the reasons:
Gateway to Everywhere: Frequent flights from Phuket's airport link you to the world's corners, breaking down barriers to exploration.

Tailored Ambiance: Whether you crave the ocean's embrace or the jungle's embrace, Phuket offers the lifestyle you envision.

Beyond Beaches: Dive into an ocean of options – pristine beaches, sports galore, shopping extravaganzas, cultural gems, historical riches, and a bounty of succulent seafood.
Phuket isn't just a place; it's a vivid tapestry of experiences waiting for you to weave your story. Come, seize the allure, and live the life you've imagined on this enchanting island.