Quality Furniture Stores in Phuket Thailand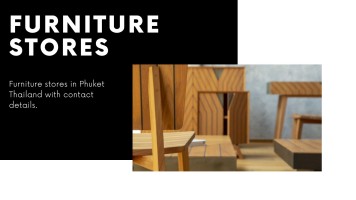 Category : Buying Real Estate | Posted On 2019-10-25 00:00:00
Quality Furniture Stores in Phuket Thailand
Whether you're furnishing your first home or redecorating your second, furniture stores in Phuket offer a wide range of home decor to suit most owners' tastes and styles. And while many of us plan on spending most of our time at the beach, it's still nice to come home and cool off in a comfortable and relaxing setting.
Nice furniture can instantly set the mood in a home and usher in good feelings.
To make it easier on you we've rounded up a good selection of furniture stores in Phuket to get you started. Their showrooms include factory furniture, custom-made furniture, ceramics, pottery, antiques, and art. This will allow you to choose from modern, contemporary, industrial, mid-century modern, Scandinavian, or traditional interior design.
Oriental Living features high-end furnishings from Thailand and Indonesia. It offers a one-stop service for clients looking for customized furniture solutions for both the home, office, or business. The company has many years of experience in design, especially in luxury living and refurbishment, and has been responsible for many award-winning properties in both Samui and Phuket.
They specialize in coordinated interior decoration schemes with unique, creative, and one-of-a-kind home accessories. They source handcrafted furnishings, decor, and art from across the world with all of them adhering to Oriental Living's unique fusion of Asian Contemporary and minimalist Scandinavian approach.
Oriental Living has been hired to provide furniture packages for some of the islands, top developers. Furniture is custom-made to order and usually takes 1-2 months to arrive.
Oriental Living also provides an interior design service if requested. We feel that they are one of the best furniture stores in Phuket.
Fine Orient is located just south of Phuket Town. There are few places in Phuket that have good Chinese antiques and "vintage" artifacts, which makes Fine Orient a must-stop for lovers of Chinoiserie.
It stocks a good range of antique and reproduction Chinese furniture, as well as pieces from Tibet and Mongolia. Teak wood carving is inherent to the story of the Thai way of life, preserving the beautiful culture. Through wood carving regardless of age, find a warm relaxing charm at this furniture store in Phuket Thailand.
The combination of Southeast Asian artwork comes from a passion for art travel. The selection of beautiful items and collections are the values ​​that are extremely difficult to assess.
Quattro Design is ready to take an eclectic lifestyle to new heights bringing a magnitude of unusual and eye-opening decorating products from every corner of the world together under one roof.
A design company specializing in interior decor and accessories, focusing on luxury commercial, signature hospitality, and intimate residential interiors. They respond to the demand for professional, reliable, and renowned expertise in design and styling services to both domestic and international markets.
This furniture store in Phuket also collaborates with your architect and interior designers to provide design consultancy on loose furnishings, artwork, home accessories, and finishing touches.
The company is committed to working with clients to create, develop, and execute their design needs in accordance with your specific budgetary requirements. They meet challenges on new trends and create new themes with maximum impact.
IKEA is a Swedish-origin design furniture store in Phuket that sells ready-to-assemble furniture, kitchen appliances, and home accessories, among other useful goods and occasionally home services.
The company is known for its modernist designs for various types of appliances and furniture. and its interior design work is often associated with an eco-friendly simplicity. In addition, the firm is known for its attention to cost control and detail along with continuous product development.
The showroom in Phuket is just that, a showroom. All orders ship from their Bangkok store warehouse and typically arrive in 3-5 days.
In Soul of Asia, you can find works by Andy Warhol, Salvador Dali, and Picasso along with Chinese and Vietnamese artists. We wouldn't say it's a furniture store in Phuket but has interesting things for your walls, counters, and floors. There are also Chinese rugs, Chinese ceramics, jewelry, paintings, and furniture from around Asia.
Furniture stores in Phuket wouldn't be complete without Soul of Asia. Owner Eric Smulders has a showroom in Surin Plaza
We specialize in helping foreigners make successful real estate investments in Thailand. Our friendly and professional agents advise and guide foreigners with reliable and honest communication providing a stress-free and efficient step-by-step process for buying or selling real estate in Phuket Thailand.
Whether you're looking to purchase a property or sell a property, we focus on your requirements, listen to your stated needs, and work hard to achieve 100% client satisfaction.