Phuket Real Estate Prices: A Beacon of Opportunity in Paradise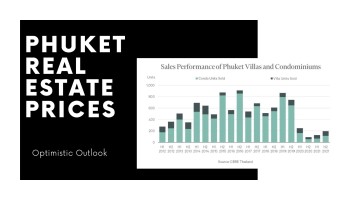 Category : Buying Real Estate | Posted On 2023-06-30 00:00:00
Phuket Real Estate Prices: A Beacon of Opportunity in Paradise
Phuket, the jewel of Thailand's Andaman Sea, is renowned for its captivating natural beauty, rich cultural heritage, and thriving tourism industry. Beyond its stunning beaches and vibrant nightlife, Phuket also offers an enticing real estate market that has become a beacon of opportunity for investors and homeowners alike. In this article, we will explore the positive aspects of Phuket's real estate prices, highlighting the immense potential and allure that this tropical paradise holds for discerning buyers.
Increasing Property Values:
One of the most promising aspects of Phuket's real estate market is the consistent and substantial increase in property values. Over the years, the island has experienced remarkable growth, both economically and in terms of infrastructure development. This, coupled with the surge in international tourism, has created a surge in demand for properties, resulting in a steady appreciation of real estate prices. Investing in Phuket today means tapping into a market that has proven its resilience and ability to generate attractive returns on investment.
Variety of Investment Options:
Phuket offers a diverse range of investment options to cater to different budgets, preferences, and investment strategies. Whether you are seeking a luxurious beachfront villa, a serene hillside retreat, or a stylish condominium in bustling city centers, Phuket has it all. From exclusive gated communities to boutique developments, the island's real estate market presents an array of choices that cater to different lifestyles and investment goals. This versatility allows investors to find properties that perfectly align with their vision and financial objectives.
Booming Tourism Industry:
Phuket's thriving tourism industry serves as a driving force behind the buoyant real estate market. Millions of visitors flock to the island each year, seeking the perfect blend of natural splendor and world-class amenities. This continuous influx of tourists not only fuels the rental market, making it an attractive option for investors looking to generate passive income but also ensures a sustained demand for properties. Investing in Phuket allows buyers to tap into the vibrant tourism sector and capitalize on the island's popularity as a holiday destination.
Lifestyle and Quality of Living:
Aside from investment potential, Phuket's real estate market offers an exceptional opportunity for those seeking an idyllic lifestyle and high-quality living. Imagine waking up to panoramic ocean views, lounging by private infinity pools, and experiencing a year-round tropical climate. Phuket's real estate market provides access to a lifestyle that seamlessly blends relaxation, adventure, and the utmost in luxury. From world-class golf courses to top-notch spas and international cuisine, the island caters to every facet of a modern and sophisticated lifestyle.
Conclusion:
Phuket's real estate prices present an alluring proposition for investors and homeowners, with their steady appreciation, diverse investment options, and the island's thriving tourism industry. The positive trajectory of the market and the unique lifestyle it offers make Phuket an undeniable paradise for real estate enthusiasts. As the island continues to evolve and thrive, now is the perfect time to embark on a real estate journey in Phuket and secure a slice of this tropical paradise. Whether you seek a sound investment or a dream home, Phuket's real estate market promises a world of possibilities and rewards for those willing to seize the opportunity.