Should I Consider Joining Thailand Elite's Exclusive Visa Program?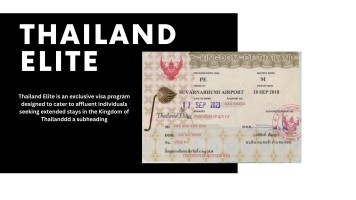 Category : Thailand Property News | Posted On 2023-09-06 00:00:00
Exploring Thailand Elite: A Visa Program for the Wealthy
Thailand Elite is an exclusive visa program designed to cater to affluent individuals seeking extended stays in the Kingdom of Thailand. Offering visa validity options of 5, 10, or 20 years, this program is administered by Thailand Elite in collaboration with Thai authorities. Despite its categorization as a tourist visa, the primary objective of the Thailand Elite Visa is to attract long-term visitors and frequent travelers to Thailand. This unique visa type is granted based on a letter of endorsement from the Ministry of Tourism and Sports of Thailand, granting holders a host of privileges and benefits.
Eligibility Criteria for Thailand Elite Visa
Given the substantial costs associated with visas, the Thailand Elite Visa is tailored for high-net-worth individuals. The program primarily targets tourists who have the means to either lease long-term or invest in property within Thailand. There are two main categories of visas: individual and family. Individual visas start at THB 600,000 (approximately $17,400 at current exchange rates), while family visas begin at THB 800,000 (roughly $23,300). Additional family members, such as children or parents, can be included in a family visa for an extra fee. The total cost of the visa depends on the chosen validity period and the package of privileges selected by the applicant.
To be eligible for the Thailand Elite Visa, applicants must meet several criteria:
No criminal record, with minor offenses and negligence-based crimes typically not considered.
Applicants must be at least 20 years old and possess a valid international passport.
Individuals declared bankrupt are ineligible for the program.
Applicants with mental illnesses are also disqualified.
Visa recipients must adhere to Thai immigration laws.
No record of visa overstay on previous visits to Thailand.
Advantages of the Thailand Elite Visa
Holders of the Thailand Elite Visa enjoy an array of benefits. Firstly, it permits long-term residency in Thailand for the visa's entire duration. Additionally, there are no restrictions on the number of entries and exits, allowing visa holders to travel to other countries or return to their home country as frequently as they wish, with each re-entry permitting a year-long stay in Thailand.
Other exclusive services and privileges for Thailand Elite members include:
Personal assistant for arrival and departure assistance.
Expedited immigration and passport control processing.
Access to VIP lounges at Thai airports.
Complimentary airport transfers within a 50–80 km radius.
Golf club privileges.
Guaranteed access to opening a bank account.
Assistance with paperwork, such as obtaining an international driving license or filing a residence notification.
Discounts and benefits at partner hotels, Thai resorts, restaurants, and medical institutions (partnerships may vary).
Furthermore, Thailand Elite Visa holders have the opportunity to apply for a resident visa, which can also be granted for 5, 10, or 20 years.
Required Documents for Thailand Elite Program
To enroll in the Thailand Elite program, applicants must provide the following documents:
Copy of the identification page of the applicant's international passport (valid for at least one more year from the visa application date).
Completed and signed application form.
High-resolution color photograph.
For family visa applicants, proof of kinship, such as a marriage certificate or birth certificate, is additionally required.
The submitted documents undergo verification by a Thai Immigration Office, and the approval process typically takes from a few weeks to three months. Once approved, the applicant can make the visa payment through a local or overseas bank account. Upon receiving the payment, the applicant receives a Welcome Letter, which serves as the basis for visa issuance. Visa holders can affix their visa upon arrival in Thailand, but they must notify the member contact center of their arrival at least five working days in advance.
For applicants already residing in Thailand, visa collection occurs at the main immigration office in Bangkok, with Thailand Elite arranging the appointment and providing a personal assistant to facilitate the process.
While it's possible to apply directly to Thailand Elite for this visa, due to the high volume of applicants, many choose to engage intermediaries for a smoother application process.
It's important to note that the Thailand Elite Visa does not grant permission to work in Thailand; it offers the opportunity for long-term residence, travel, and exclusive privileges within the country.