Thailand Internet Speed | Top 5 in the World according to Speed Index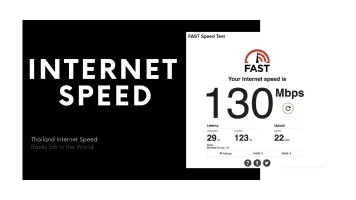 Category : Thailand Property News | Posted On 2022-08-30 00:00:00
Thailand Ranks in the Top 5 Worldwide for Internet Speed
Thailand has enjoyed fast internet speed on mobile devices for some time now. But Thailand has witnessed significant improvements in fixed broadband internet speeds over the last 5 years. As more and more customers have the option of installing fiber optics in their homes, Thailand now ranks number 4 in the WORLD for fastest broadband internet speeds.


Internet service providers (ISPs) have invested heavily in infrastructure and network upgrades to the extent that Thailand is now attracting companies and individuals who require these increased speeds for business. We expect this trend to continue.
Thailand has managed the challenges of increased traffic comparatively well climbing from 10th place to 3rd place before settling out in 4th. As you can imagine, this is a competitive statistic that many countries are working actively to improve.
ASEAN is one of the fastest-growing internet markets in the world, and data intelligence shows the number of fixed broadband users in Asia has grown significantly. Impressively, Thailand has kept up with demand ranking the country second-fastest among ASEAN member countries.