The 10 Best Things to Do in Phuket, Thailand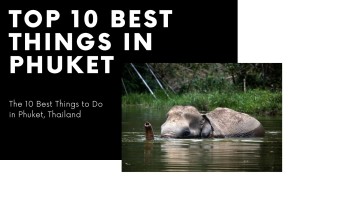 Category : Thailand Property News | Posted On 2023-10-13 00:00:00
The 10 Best Things to Do in Phuket, Thailand
Phuket, Thailand's largest island, is a tropical paradise known for its stunning beaches, vibrant nightlife, and a wide range of activities for travelers of all interests. Whether you're a beach bum, an adventure enthusiast, a history buff, or a food lover, Phuket has something for everyone. In this blog, we'll explore the 10 best things to do in Phuket, helping you make the most of your visit to this captivating island.
1) Patong Beach:

Water Sports:

Patong Beach

is a hub for water sports such as parasailing, jet-skiing, and snorkeling. You can rent equipment and take lessons right on the beach.

Bangla Road Nightlife:

Explore the vibrant nightlife at Bangla Road, known for its go-go bars, street performances, and neon lights. Enjoy live music and dance till the early hours.



2) Phi Phi Islands:
Snorkeling at Shark Point:

For underwater enthusiasts, Shark Point offers a chance to see leopard sharks and colorful reef fish up close while snorkeling.

Viking Cave:

Visit the Viking Cave on

Phi Phi Leh

, where swiftlet nests are harvested for bird's nest soup.
3) Old Phuket Town:

Street Art Exploration:

Discover the unique street art and murals that adorn the walls of

Old Phuket Town

, making it a visual feast for art lovers.

Thai Baba Cuisine:

Try local dishes influenced by the Peranakan culture, such as Mee Hokkien and Baba Nyonya desserts.



4) Big Buddha:
360-Degree Views:

Enjoy the panoramic views of Phuket from the viewpoint at the base of the Big Buddha, especially during sunset.

Donation Bells:

Make a donation and ring one of the bells, believed to bring good luck and blessings.
5) Wat Chalong:

Chedi and Museum:

Explore the stunning chedi (stupa) and the museum within the temple grounds, showcasing the history and healing powers associated with

Wat Chalong

.

Join a Blessing Ceremony:

Participate in a traditional Thai blessing ceremony to experience the local culture and spirituality.



6) Phang Nga Bay:

Sea Canoeing:

In

Phang Nga Bay

you can paddle through the sea caves and hidden lagoons in a sea canoe, a thrilling way to get up close to the bay's unique geology.

Panyee Floating Village:

Visit Koh Panyee, a floating village built on stilts, and enjoy a seafood meal at one of the local restaurants.



7) Similan Islands:

Scuba Diving:

Discover vibrant coral reefs and encounter diverse marine life, including reef sharks, manta rays, and sea turtles, making it a top spot for divers.

Richelieu Rock:

Dive at

Richelieu Rock

, famous for its purple corals and a diverse range of macro marine life.




8) Phuket Elephant Sanctuary:
Ethical Elephant Interaction:

Spend the day observing and learning about rescued elephants in a natural and cruelty-free environment. You can feed, bathe, and walk with these gentle giants at an

elephant nature park

.
9) Phuket FantaSea:
Fantasy Show:

Enjoy the Las Vegas-style fantasy show with extravagant costumes, magical illusions, and traditional Thai dance performances.

Shopping Village:

Explore the carnival-style shopping village with unique Thai souvenirs, handicrafts, and street food at

Phuket FantaSea

.



10) Water Sports and Adventures:
Ziplining at Flying Hanuman:

Experience an adrenaline rush by ziplining through the lush jungle canopy at Flying Hanuman.

Kathu Waterfall:

Hike to the Kathu Waterfall, a hidden gem where you can cool off in the natural pools and enjoy a serene jungle setting.
Conclusion:
Phuket, with its diverse range of activities and attractions, has something to offer every type of traveler. Whether you're looking for relaxation on pristine beaches, cultural exploration in historic towns, or adrenaline-pumping adventures, Phuket is a destination that won't disappoint. Make sure to check the weather, plan your activities, and immerse yourself in the beauty and charm of this island in the Andaman Sea. Enjoy your journey to the "Pearl of the Andaman."
We specialize in helping foreigners make successful real estate investments in Thailand. Our friendly and professional agents advise and guide foreigners with reliable and honest communication providing a stress-free and efficient step-by-step process for buying or selling real estate in Phuket Thailand.
Whether you're looking to purchase a property or sell a property, we focus on your requirements, listen to your stated needs, and work hard to achieve 100% client satisfaction.