What does Freehold mean in Thailand?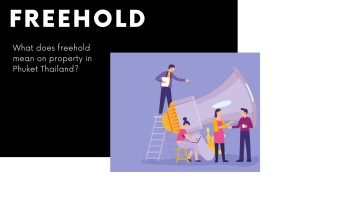 Category : Buying Real Estate | Posted On 2019-03-15 00:00:00
What does Freehold mean in Thailand?
So what is the right way to own your Thai property and what is the difference between the various options available?
Freehold Meaning
In Thailand, freehold is the most complete and absolute ownership interest that can be held in property. Freehold property belongs to the owner indefinitely and therefore represents absolute ownership of real property.
In Phuket, with the exception of "condominium freehold", the most common forms of freehold generally relate to the purchase of land or structures built on the land.
While it is true that foreigners can own "condominium freeholds" and structures on the land (homes, townhomes, villas), Thai law contains no provision for foreign individuals to own a direct freehold interest in the land on which it sits.
The question then becomes: what is the best ownership structure for a particular property?
Freehold Structures
This is a commonly used ownership option for foreign buyers. The buyer signs a long-term leasehold contract on the land with the developer. As a foreigner, the structure (villa) can be owned separately as a freehold, either in your personal name or in an offshore company name. Foreigners can own structures sitting on the land, which could, in some respects, be considered a form of freehold ownership.
The freehold structure is then registered on the back of the land title deed during the long-term lease period. Land title documents serve as evidence of rights to land. Buildings are a form of immovable property that can be owned separately from the land.
For homes for sale in Thailand, more and more buyers are comfortable with leasing the land with protection granted in the contract. Different structures can be recommended by your property law firm.
Thai Company Freehold
Thai company structures are used by foreigners to indirectly own land in Thailand whereby the company owns the land and the foreigner controls the company.
The Foreign Business Act (FBA) is the main legislation regulating the scope of foreign business activities in Thailand. There have been proposed amendments to the FBA aimed at addressing the use of nominee shareholders and foreigners using preferred voting rights to control Thai companies. It is important to note that at the time of writing, the proposed amendments have not become law.


Thai Condominium Act
Made possible by the Thailand Condominium Act of 1979, buying a "condominium freehold" unit is one of the easiest ways for foreigners to acquire direct property ownership in Thailand. This is a special legal type of freehold that foreigners can directly and legally own in Thailand, just as they would own freehold property in their own country. Hence the term "condominium freehold" title.
Buying a condominium-registered property provides a degree of consumer protection for buyers. For instance, purchase contracts for the sale of a condominium unit by the developer are standardized and are required to be in the form established by the Ministry of the Interior. Marketing materials from the developer must not fail to deliver on such promises as to avoid misrepresentation to buyers.
There are other significant benefits to purchasing Condominium registered property. Condominium units receive a five-year structural guarantee and a two-year non-structural defects warranty. The Condominium Act also provides provisions relating to the management of condominiums, together with penalties for violations.
Freehold Taxes
What does freehold mean in Thailand? More taxes than leasehold. Taxes on freehold property differ from leasehold property.
There are many considerations to take into account before the most suitable property ownership structure can be determined.
Most condominium buyers who plan to hold their unit for a long period of time (over 10 years) will choose a foreign freehold structure over a leasehold structure.
Taxes for freehold and leasehold property can be seen in the chart below:
In Conclusion
Over the years, prices for Phuket property have continued to go up as more and more buyers are comfortable with the current ownership structures available. This has created a real estate market where prices are quite resilient when the market turns down, and significant drops are rare.
For more information about "what does freehold mean in Thailand" or about homes for sale in Phuket Thailand, call us today at +66 93 606 0906.