Why is Sea View Property Limited in Phuket Thailand?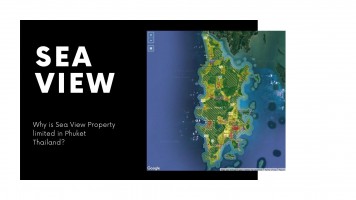 Category : Buying Real Estate | Posted On 2022-03-15 00:00:00





Sea View Property in Phuket Thailand
It's a fact, sea view property is not as abundant as most people imagine it would be in Phuket Thailand.
Zoning Laws in Phuket
There are many reasons for the limited amount of sea view property in Phuket that we will discuss in this article. The first of which is zoning. Zoning is the main contributing factor limiting sea view property in Phuket Thailand. Most countries have zoning laws and Thailand is no exception. These laws specify what commercial or residential construction is permitted in specific areas, and details the allowable uses and or restrictions for building in each area. In addition to designating [or prohibiting] certain uses, areas where building is allowed will be subject to regulations on the types of building, the number of floors allowed, and the total building height allowed.
Height Restrictions on Buildings in Phuket [Number of Floors]
Zoning laws limit the height of buildings that you can construct on the island. Nothing can be built directly on the beach legally within 20m [from high tide]. Then you are allowed to build up to 6m in height, then 12m, then 16m, and up to a max building height of 23m depending on the distance from the sea and the zone. This height restriction can greatly limit the sea views on the island.
True, you will see some buildings in Phuket that are much higher than 23m [about 8 floors]. There are just a few of these taller buildings that were constructed prior to the current zoning laws and are under the grandfather clause. Most were constructed prior to the year 2000.
One of the first things that people notice when arriving in Phuket is the captivating natural beauty and lush greenery. The government has made it clear that they want to preserve this for future generations to enjoy.
Height Restriction on Construction in Phuket [Distance above Sea Level]
Most refer to this as the "Eighty Meter Rule". The law states that no building in Phuket [under any zone] may be built to a height exceeding 80 meters from sea level.
Seventy percent
of Phuket's area is covered by mountains that stretch from north to south. It's estimated that 50 percent of the land in Phuket is above 80 meters, greatly limiting sea view property on the island.
A new regulation [2018] limits building to no more than 6 meters in height if located above 40 meters from sea level.
National Parks in Phuket Thailand
Phuket has 9 National Parks. The biggest is Sirinat National Park which stretches from Layan to Mai Khao and covers
22 kilometers of coastline
. These national parks are beautiful and well worth visiting but greatly limit the amount of sea view property available in Phuket.
Slope Limitations in Phuket
A recent law that further limits the building on hillside slopes greater than 35 degrees was introduced in 2018. It was a change to the original laws preventing building on land with a gradient [slope] of 50 percent or more.
Beaches are Public in Phuket
The beaches in Phuket are amazing and open to the public at no cost. Almost all have free public parking and access is good. However, this is one more reason why sea view property in Phuket is not as abundant as most would think.
In Conclusion
Sea view property in Phuket Thailand is scarce and that's a good thing. The current zoning allows everyone the ability to enjoy the island. These laws will ensure that the island will stay lush, green, and natural for many years to come and for many to enjoy.
This is also the main reason why sea view property is priced accordingly.